Today's Theme:No Need To Lock Ourselves Away
Focus Scripture:John 20:19-31
Other Readings:1 John 1- 2:2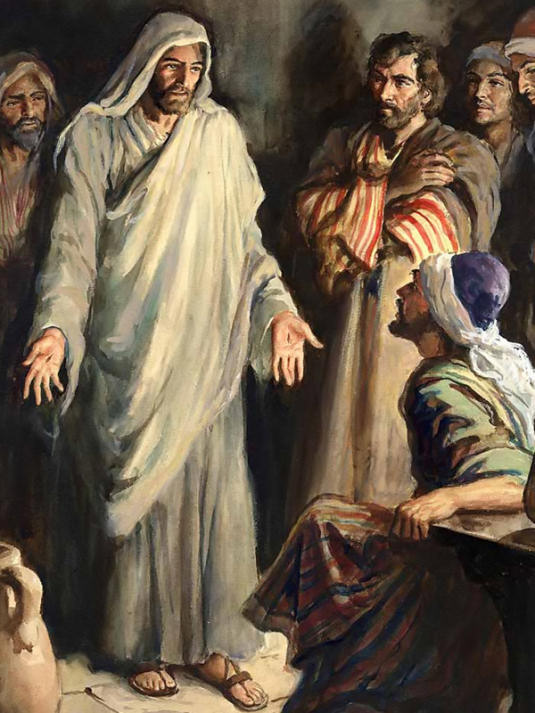 With Thomas we long to see for ourselves, that we may believe in Jesus the Christ. Thomas' story reminds us that people come to belief in different ways, that there is room for question and doubt. To disciples, then and now, Jesus gives peace, Spirit, forgiveness, faith, and power to witness. Fellowship and joy are marks of this believing community.
John 20:19-29 (NIV)
On the evening of that first day of the week, when the disciples were together, with the doors locked for fear of the Jews, Jesus came and stood among them and said, "Peace be with you!" After he said this, he showed them his hands and side. The disciples were overjoyed when they saw the Lord. Again Jesus said, "Peace be with you! As the Father has sent me, I am sending you." And with that he breathed on them and said, "Receive the Holy Spirit. If you forgive anyone his sins, they are forgiven; if you do not forgive them, they are not forgiven." Now Thomas (called Didymus), one of the Twelve, was not with the disciples when Jesus came. So the other disciples told him, "We have seen the Lord!" But he said to them, "Unless I see the nail marks in his hands and put my finger where the nails were, and put my hand into his side, I will not believe it." A week later his disciples were in the house again and Thomas was with them. Though the doors were locked, Jesus came and stood among them and said, "Peace be with you!" Then he said to Thomas, "Put your finger here; see my hands. Reach out your hand and put it into my side. Stop doubting and believe." Thomas said to him, "My Lord and my God!" Then Jesus told him, "Because you have seen me, you have believed; blessed are those who have not seen and yet have believed."
---
NEXT WEEK:
Sunday Worship: 19 April 2015
Theme: No Need to Apologise for Wonder
Focus Scripture: Luke 24:36b-48
Other Readings: Acts 3:12-19; Psalm 4, 1 John 3:1-7
Prayer Points:- Please pray for: Mainly Music for an increase in numbers attending; Youth Band for more band members please; Margaret Morrison for recovery from surgery, Peter Keys who is in hospital and Wendy Sullivan - Girls Brigade Leader. Ron Ashton passed away last week - please pray for his family at this time. Also pray for safe travels for our Church members travelling at present.
Leprosy Mission Boxes:- These are due for collection, please return to Joan Jones. Thanks.
Thank you to all those who helped with the Easter Services: Maundy Thursday Team was Loas, Ray, Bob, Alan and Mary – it was great to have your parts which gave depth to the story of Jesus last supper with his disciples; The Good Friday service was a team effort with Liz and Mavis on the overall structure and content and then Jed, Alison, Dick, Thomas and Derek who gave the words from the difference characters on Jesus last hours, 'life'.
Thank you to the Holiday Programme garden boxes 'keepers'. We have new life in them again – and it was a lovely surprise to discover it blooming ☺. If you haven't seen the garden boxes in the front courtyard – have a look they are lovely with their 'fresh start'.
Thank you for the volunteer helpers in organising Ron's funeral service which (at time of print) will be on Saturday at 11 am. We always have the physical side of hosting (moving chairs) and ensuring that we are good hosts but sometimes we overlook others like to Natalie with the video and Felicity with the flowers . We will miss knowing Ron was around as support and backup for all our activities. Whether you knew it or not Ron knew everything important that was happening at St Johns and upheld us all in prayer. As a founding member of St Johns he held so much of our story in his heart. We are the poorer for his passing – but we freely admit he is in a better place; no more pain, worry, frustrations of health and the best part for him is that he is with his beloved Mary again. Rest in peace, faithful servant of the Lord.
Real Life:- This Sunday night (12 April) John Cowan's guest will be chef, Michael Van de Elzen.
Holiday Programme:- Another successful programme has just finished. Thank you to all the wonderful leaders and the lovely people who donated baking it was greatfully received.
FINANCE REPORT TO CONGREGATION
OFFERINGS IN February just above budget and income from rents etc just below.
Expenses were high as the bills for the maintenance done to the grounds of the manse started to arrive. There are more to come including electrical and plumbing work which we did not expect but which has to be done. We will also have the costs of the church buildings annual warrant of fitness to pay. Looking ahead we can expect that our expenses will begin to run over budget.
So far we are managing to avoid drawing on our reserve funds.
OVERALL TIGHT BUT MANAGEABLE. THANKYOU FOR YOUR FAITHFUL SUPPORT AND PRAISE THE LORD!
 
February2015
Year to Date (8 months)
 
Actual
Budget
Actual
Budget
INCOME
OFFERINGS
7989
7735
67167
66862
SPECIAL GIVING
-
208
9230
1664
OTHER INCOME
5764
5940
54854
48810
TOTAL INCOME
13753
13883
131250
117336
 
EXPENSES
REGULAR/NORMAL
16475
14936
118518
117223
SPECIAL PROJECTS
-
-
6425
-
SURPLUS(DEFICIT)
(2772)
(1053)
6307
113