Newsletter 14-February-2016
BACKGROUND:- Lent begins in joyful remembrance of the extravagant outpouring of God's love. God's steadfast love, purpose, and nourishment in the wilderness – for the people of Israel and for Jesus – reveal such providence. Experiencing God's grace beckons us to open what we have and who we are in thanksgiving to God, and in sharing with neighbour.
Luke 4-11
1 Jesus, full of the Holy Spirit, returned from the Jordan and was led by the Spirit in the desert, 2 where for forty days he was tempted by the devil. He ate nothing during those days, and at the end of them he was hungry. 3 The devil said to him, "If you are the Son of God, tell this stone to become bread." 4 Jesus answered, "It is written: 'Man does not live on bread alone.' "5 The devil led him up to a high place and showed him in an instant all the kingdoms of the world. 6 And he said to him, "I will give you all their authority and splendour, for it has been given to me, and I can give it to anyone I want to. 7 So if you worship me, it will all be yours." 8 Jesus answered, "It is written: 'Worship the Lord your God and serve him only.' "9 The devil led him to Jerusalem and had him stand on the highest point of the temple. "If you are the Son of God," he said, "throw yourself down from here. 10 For it is written: "'He will command his angels concerning you to guard you carefully; 11 they will lift you up in their hands, so that you will not strike your foot against a stone.' "12 Jesus answered, "It says: 'Do not put the Lord your God to the test.' "13 When the devil had finished all this tempting, he left him until an opportune time.
---
NEXT WEEK:
Sunday 21th February 2016
Next Weeks Theme: "There is only one thing that is necessary"
Focus Scripture: Psalm 27:1-4
Other Readings: Luke 10:38-41 and Luke 11:1-4
Prayer Points:- Please pray for: Little Cubs Kindy for more children (thanks because they have had 3 new enrolments, but need at least 12 more children. Brenda Ryan with ongoing health issues.
Lenten Thoughts: 'Living Simply'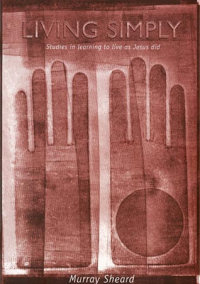 After Church on Sundays 28 February and 13 March we are holding a discussion / study from 'Living Simply'. The Author M Stead, will lead our discussion on 13 March. This will be followed by a light lunch. You will need a study book and for catering purposes please let Jeannine in the office, Lorraine, Liz or Mavis know if you are staying for lunch. If you would like to join us for these study discussions, please take home a study booklet and bring it with you on both the 28th and 13th.



Youth - started last week.:- Friday 5th at 7.00pm for a 7.30pm start. Finishing at 9.00 pm. This week we will having games and lots of ice-cream. Bring a cake if you can to go with the ice-cream. Contact Ian 021-2831810 for more information
Is this for you? Our St Johns Girls Brigade Company – officially called the 1st Bucklands Beach Girls Brigade Company, needs leaders if it is to continue its ministry. Our Captain, Julie Dickey is no longer able to actively lead the company but would be delighted to be involved in a consultative, supportive role. Unless we of St Johns can supply leaders we will have to place the company into recess followed by closure after 1 year if no activity progresses in 2016. Is this something you might pick up and be one of the 2/3 new leaders to plan & run the sessions, with guidance from Julie? Lorraine
Movie Premier February on Shine TV (Freeview Satellite channel 25 Sky Channel 201 Free online www.shinetv.vo.nz) Saul the road to Damascus, The epic biblical movie brings to life one of Christianity's most notable figures Saul of Tarsus. Friday 19 February 830pm
From Lorraine, Grahame Drummond will be leading worship on Sunday 21st February. I am on a week's leave. We are taking Alex to Wellington for the start of his 2nd year and taking a week to drive back to Auckland.
Real life with John Cowan and Newstalk ZB 7:30pm Sunday nights, John Cowan's guest this Sunday night (14th February) will be newsreader and co-host of TVNZ's Breakfast, Nadine Chalmers-Ross
FROM THE FINANCE TEAM This newsletter has the latest summary of our financial position. Giving is down on budget and on last year and we are trying to reduce expenses where possible. Please prayerfully consider your giving to the Lords work in this place. DISHWASHER The dishwasher in the foyer kitchen has expired but some wonderful and anonymous person has donated the funds to buy a new and improved model. Thank you!
BEQUESTS. We are benefitting from 2 bequests this year from long-term members who have moved on to glory. We miss them but are grateful for their final act of support. Making provision in your will to donate to St Johns Church is a way to continue to support the community you have served. If you need information on how this can be done speak to Bob Williamson.
Bucklands Beach Co-operating Parish Finance summary 6 months to 31 December 2015
 
Actual
Budget
Last Year
Notes
INCOME
Giving
46991
53252
50676
1
Rents
42617
42320
34792
Total Income
93842
102258
93535
 
Expenditure
Staff
58734
58601
48260
2
Total Expenses
99579
104675
86033
Surplus/(Deficit)
(5738)
(2507)
7502
Notes- Reasons for (deficit) against budget
Thanksgiving (1610), Envelopes (3717)
Repairs & maintenance (3646)