Newsletter 3-September-2017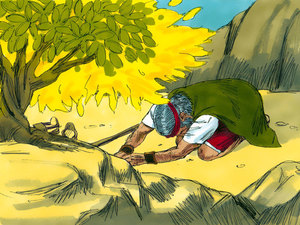 Exodus 3:1-15: Moses and the Burning Bush
3 Now Moses was tending the flock of Jethro his father-in-law, the priest of Midian, and he led the flock to the far side of the wilderness and came to Horeb, the mountain of God. 2 There the angel of the Lord appeared to him in flames of fire from within a bush. Moses saw that though the bush was on fire it did not burn up. 3 So Moses thought, "I will go over and see this strange sight—why the bush does not burn up." 4 When the Lord saw that he had gone over to look, God called to him from within the bush, "Moses! Moses!" And Moses said, "Here I am." 5 "Do not come any closer," God said. "Take off your sandals, for the place where you are standing is holy ground." 6 Then he said, "I am the God of your father, [a] the God of Abraham, the God of Isaac and the God of Jacob." At this, Moses hid his face, because he was afraid to look at God. 7 The Lord said, "I have indeed seen the misery of my people in Egypt. I have heard them crying out because of their slave drivers, and I am concerned about their suffering. 8 So I have come down to rescue them from the hand of the Egyptians and to bring them up out of that land into a good and spacious land, a land flowing with milk and honey - the home of the Canaanites, Hittites, Amorites, Perizzites, Hivites and Jebusites.
---
NEXT SUNDAY: 10th September 2017
Next week's theme: "Land Sunday; Two World Views – One God"
Focus Scripture: Psalm 139: 7-12
Other Readings: John 10: 7-18; Romans 5: 12-17
Prayer Points:- Rev Grahame Drummond and family as they mourn Maureen; Erika Lim as she and her family mourns the death of her Grandmother; Rita Jackson for comfort and healing; Brenda Ryan for good health; Steve Logan for strength in his recovery; Families, Children for Mainly Music Ministry please; Everybody with winter coughs and colds! 
Nomination Team: The year has cycled around and we are into the season of the approach of our Annual General Meeting (AGM 24th September 2017). The first step was to establish the Nominating Team who are tasked with gathering a list of people to serve on the Leadership Team. At the congregational meeting following our service on 20th August, Christo John and Lily Han were elected to join Joan Rutherford, Jessie Liu and Uraiwan Jolly on the Nomination Team. Please, please talk to one of them if you are thinking of someone who might serve on the St. Johns Leadership Team. We would like to have at least two nominations from each congregation
Congregational Meeting Notice: Our AGM will take place after our service on Sunday 24th September. Please stay to join us for this important meeting in our annual calendar.
A report from the Finance Committee - July 2017
 
Actual
Budget
INCOME
$
$
Offerings
5292
6833
Rents
6662
7333
Total Income
13311
14820
 
Expenses
12081
15451
Offerings were $1500 below budget and $800 below July last year. This is a big concern. Rents are expected to catch up the difference, which is due to timing. Please Pray for God's provisioning for our finances.
Alpha course: Please continue to pray for: The course and for God to touch the hearts of those seeking or in need of renewal. For spiritual protection for St Johns and all involved during Alpha.
Real Life with John Cowan:- 7.30pm Sunday nights on Newstalk ZB. John Cowan's guest this Sunday night (3rd September) will be Heather du Plessis-Allan, journalist and TV presenter
Combined Youth Worship Service
Sunday 10 September 6.30 pm – 8 pm at Holy Trinity Cathedral, Parnell. This is a combined Youth Service, with young people from the Anglican, Baptist, Presbyterian and Wesleyan Methodist Churches of Auckland. Join others to fill up Holy Trinity Cathedral with young people from all over Auckland to worship together, hear a great message and celebrate being one in the body of Christ. Charlie Baker (former AYM staff & preacher from E-Fest '16) will be  preaching. The St Paul's. Symonds St Youth band will be leading the worship.
God of Wonder –Science talks with Theology September 22/23 Conference starts at 7 pm, Friday 22 nd with a free public lecture at Old Government House, University of Auckland. Continues all day Saturday with a panel  discussion in the evening. Keynote Speaker Professor Christopher Southgate, The Glory of God: signs of glory in creation. Register at www.nzcis.org
Exhibition Colin McCahon: On the Road Inspired by Faith 9-14 October 2017 at Somervell Presbyterian Church, 497 Remuera Road, Remuera. Free entry. www.somervell.org.nz/artweek
 One More at the Table: Uniting Congregations of Aotearoa New Zealand (UCANZ) Forum 'One More at the Table' takes place from 26-29 October at the Onehunga Cooperating Parish, Corner of Grey Street and Onehunga Mall. This year's UCANZ Forum goal is to enlarge vision and equip those attending with greater understanding of the diversities encountered in the life of Cooperative Ventures. Early bird registration until 31 August $180. Full programme at www.ucan.org.nz 
On at the Movies from 31 August: ALL SAINTS a film based on the inspiring story of salesman-turned-pastor Michael Spurlock (John Corbett), the tiny church he was ordered to shut down, and a group of refuges from Southeast Asia. Together, they risked everything to plant seeds for a future that might just save them all. 
The Five Hundredth Anniversary of the Reformation 1517-2017 The community of St Luke and St Heliers Presbyterian Church invite you to a public marking this anniversary. "How do we speak about God? Authenticity for Martin Luther and for us" by Professor Peter Matheson, St Lukes Church 130 Remuera Road, 17 October at 7.30 pm. Peter Matheson taught church history at Edinburgh and Otago Universities and is Principal Emeritus of the Uniting Church Theological College in Melbourne. He has researched and written extensively about the Reformation. His books in this area include: The Collected Works of Thomas Muntzer, The Rhetoric of the Reformation, The Imaginative World of the Reformation, and three books on Argula von Grumbach, the first published Protestant woman to defend the Reformation. Peter edited the volume, Reformation Christianity in the series, "A People's History of Christianity". A peace activist, a poet and retired Presbyterian minister, Peter lives in Dunedin.