Newsletter 10-September-2017

Psalm 139:7-12 New International Version (NIV)
7Where can I go from your Spirit?
Where can I flee from your presence?
8 If I go up to the heavens, you are there;
if I make my bed in the depths, you are there.
9If I rise on the wings of the dawn,
if I settle on the far side of the sea,
10 even there your hand will guide me,
your right hand will hold me fast.
11 If I say, "Surely the darkness will hide me
and the light become night around me,"
12 even the darkness will not be dark to you;
the night will shine like the day,
for darkness is as light to you.
---
NEXT SUNDAY: 17rd September 2017
Next week's theme: ''Pay-back – Jesus Way'
Focus Scripture:Exodus 14:19-31
Other Readings: Psalms 114; Romans 14:1-12; Matthew 18:21-35
Prayer Points:- Rev Grahame Drummond and family as they mourn Maureen; Erica Lim as she and her family mourns the death of her Grandmother; Rita Jackson for comfort and healing; Brenda Ryan for good health; Steve Logan for strength in his recovery; Families, Children and Leaders for Mainly Music Ministry please; Everybody with winter coughs and colds! 
Emergency Prayer:
If you require emergency prayer between 15 September to 7 October please contact Mavis Haigh 534 8891.
Nomination Team: The year has cycled around and we are into the season of the approach of our Annual General Meeting (AGM 24 September 2017). The first step was to establish the Nominating Team who are tasked with gathering a list of people to serve on the Leadership Team. There is a detailed letter available on the foyer table with more information about the process. At the congregational meeting following our service on 20 August, Christo John and Lily Han were elected to serve on the Nomination Team.
Congregational Meeting Notice: Our AGM will take place after our service on Sunday 24 September. Please stay to join us for this important meeting in our annual calendar.
St John's 5 Year Plan:
The Leadership Team has been working on a 5 year plan for St Johns. There are a few copies of the current version available on the foyer table for you to take and read. I don't think most of us on LT realised when we began this process just how flexible and adaptable such a plan has to be. When you read it, you will realise we have achieved some things already (kitchen/roof); we are struggling with other parts and we would like congregational endorsement for future progression. LT will be asking for congregational endorsement at the AGM. If you have any questions or would like clarification on some points please talk to Lorraine.
Alpha course: Please continue to pray for: The course and for God to touch the hearts of those seeking or in need of renewal. For spiritual protection for St John's and all involved during Alpha.
Congratulations:Congratulations to Rahil John on passing his Grade 8 music exam. How blessed we are to have Rahil as part of our Music Ministry at St Johns.
Fellowship Lunch: Friday 29 September at noon, Ara Tai Café, Half Moon Bay. Please sign the form in the foyer if you are interested in joining us.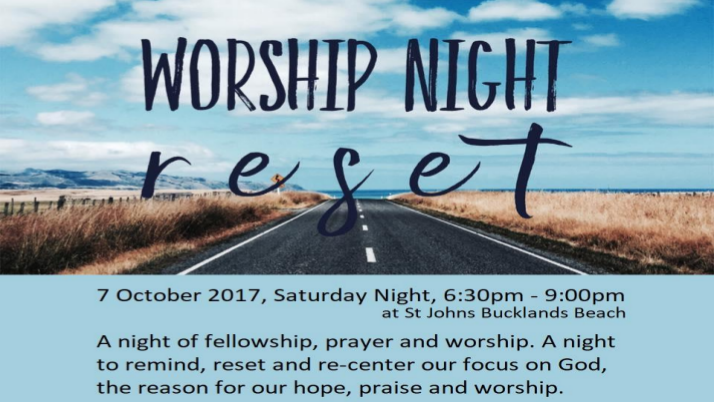 The Power of the Cross: A prayer and healing service. 6.30 pm Sunday 8 th October, Glenfield Presbyterian Church, 82 Chartwell Avenue, Glenfield. All welcome. Guest Preacher: Rev Mark Keown.
Exhibition: Colin McCahon: On the Road Inspired by Faith. 9-14 October 2017 at Somervell Presbyterian Church, 497 Remuera Road, Remuera. Free entry. www.somervell.org.nz/artweek
One More at the Table: Uniting Congregations of Aotearoa New Zealand (UCANZ) Forum 'One More at the Table' takes place from 26-29 October at the Onehunga Cooperating Parish, Corner of Grey Street and Onehunga Mall. This year's UCANZ Forum goal is to enlarge vision and equip those attending with greater understanding of the diversities encountered in the life of Cooperative Ventures. Early bird registration until 31 August $180. Full programme at www.ucan.org.nz 
The Five Hundredth Anniversary of the Reformation 1517-2017 The community of St Luke and St Heliers Presbyterian Church invite you to a public marking this anniversary. "How do we speak about God? Authenticity for Martin Luther and for us" by Professor Peter Matheson, St Lukes Church 130 Remuera Road, 17 October at 7.30 pm.
Peter Matheson taught church history at Edinburgh and Otago Universities and is Principal Emeritus of the Uniting Church Theological College in Melbourne. He has researched and written extensively about the Reformation. His books in this area include: The Collected Works of Thomas Muntzer, The Rhetoric of the Reformation, The Imaginative World of the Reformation, and three books on Argula von Grumbach, the first published Protestant woman to defend the Reformation. Peter edited the volume, Reformation Christianity in the series, "A People's History of Christianity". A peace activist, a poet and retired Presbyterian minister, Peter lives in Dunedin.