Newsletter 8-October-2017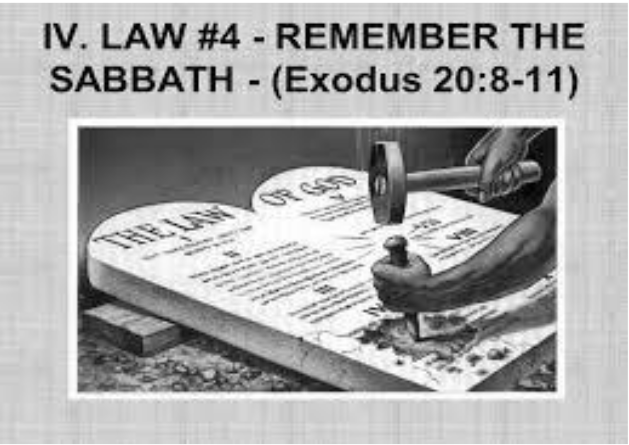 Exodus 20:1-4 New International Version (NIV)
20 And God spoke all these words:
2 "I am the Lord your God, who brought you out of Egypt, out of the land of slavery.
3 "You shall have no other gods before me.
4 "You shall not make for yourself an image in the form of anything in heaven above or on the earth beneath or in the waters below.

Exodus 20:7-9 New International Version (NIV)
7 "You shall not misuse the name of the Lord your God, for the Lord will not hold anyone guiltless who misuses his name.
8 "Remember the Sabbath day by keeping it holy.
9 Six days you shall labour and do all your work,
---
NEXT SUNDAY: 15th October 2017
Next week's theme:  Soothing our Souls
Focus Scripture:  Exodus 32:1-4, 7-9, 2-20
Other Readings: Psalm 19; Psalm 106:1-6, 19-23;Philippians 4:1-9; Matthew 22:1-14
Prayer Points for: Brenda Ryan for good health; Families, Children and Leaders for Mainly Music Ministry please; George Morrison and family with the sudden death of his daughter Fiona. The Hanscamp famil;y (Nigel, Rebecca, Letitiia and Jacinta_ with the sudden death of Nigel's Mum a few weeks ago and now his dad is in a hospice, dying of cancer.
Steve Logan says thank you all (and God) for the stength and grace he found to live through his leukemia treatment, (a bone marrow transplant, successful) and while all that was going on, for being able to cope with his wife's death. Please pray for the Logan family as they mourn Lynette.
Real Life with John Cowan:- 7.30pm Sunday nights on Newstalk ZB. John Cowan's guest this Sunday night (8 October) will be Shannon Francois. Shannon is a New Zealand netball player, who is currently contracted to the Southern Steel in the trans-Tasman ANZ Championship. Francois, who is a midcourter, has played for Otago in the National Provincial Championships since 2010. She made the New Zealand under 21 squad in 2011 and played against Australia in three tests. She was later named in the FastNet Ferns squad to compete in the World Netball Series, in Liverpool.
From Just War to Just Peace
Dorothy Brown Memorial Lecture & Study Day Friday, 13 October 7.30 pm
Speaker: Maire Leadbeater, longtime New Zealand peace activist speaks on 'Nuclear free New Zealand at 30: historic achievement compromised by 'follow the leader' foreign policy.
Followed by a study day on 14 October, 8.30 am until 5 pm. Professor Richard Jackson, Professor Peter Lineham, Dr Katerina Standish, Dr Geoffrey Troughton, Dr Zain Ali, Dr Heather Devere, Judge Graeme MacCormick. $25 fee includes lunch.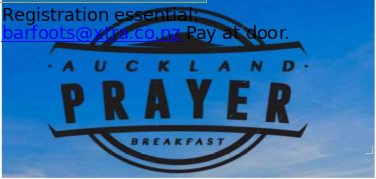 Auckland Prayer Breakfast
Thursday, 26 October at 6.30 am Eden Park Function Centre
This event is for anyone who desires to pray for the different communities that come together in the Auckland area such as business (the professions), politics, the arts and those in need.
Bishop Leader for Tangata Whenua/Issues facing Auckland City Governance.
 The Five Hundredth Anniversary of the Reformation 1517-2017 The community of St Luke and St Heliers Presbyterian Church invite you to a public marking this anniversary. "How do we speak about God? Authenticity for Martin Luther and for us" by Professor Peter Matheson, St Lukes Church 130 Remuera Road, 17 October at 7.30 pm. 
Peter Matheson taught church history at Edinburgh and Otago Universities and is Principal Emeritus of the Uniting Church Theological College in Melbourne. He has researched and written extensively about the Reformation. His books in this area include: The Collected Works of Thomas Muntzer, The Rhetoric of the Reformation, The Imaginative World of the Reformation, and three books on Argula von Grumbach, the first published Protestant woman to defend the Reformation. Peter edited the volume, Reformation Christianity in the series, "A People's History of Christianity". A peace activist, a poet and retired Presbyterian minister, Peter lives in Dunedin.
 One More at the Table: Uniting Congregations of Aotearoa New Zealand (UCANZ) Forum 'One More at the Table' takes place from 26-29 October at the Onehunga Cooperating Parish, Corner of Grey Street and Onehunga Mall. This year's UCANZ Forum goal is to enlarge vision and equip those attending with greater understanding of the diversities encountered in the life of Cooperative Ventures. Full programme at www.ucan.org.nz 
 Afternoon tea contributions: St Johns is responsible for preparing and serving afternoon tea on Saturday 28 October at the forum mentioned above. Contributions of baking or slices for this event will be appreciated. Please bring them to church on Friday 27 October. Helpers on the day would also be welcome, contact Lorraine or Alison.
Thanksgiving Sunday 29 October. In 2017 we are appealing for funds to refurbish and freshen-up the upstairs hall. If you venture up there you will see that this is badly needed. The kitchen upgrade is going to make the rest of the upstairs look even more shabby! This is the environment in which our Mandarin language services are held. So, if you can please give generously.
As always we will be giving 10% of the money raised to a cause outside St Johns. This year the Leadership Team have decided to support CCSM – The Chinese Churches Support Mission. This is close to the hearts of our Mandarin Brethren. Murray Cameron who is often here to speak at services upstairs works for CCSM.
The First, Second, and 21st Centuries: More Spirit, Less Rules – An evening with lecture with Hai Taussig. Thursday 2 November at 7.30 pm at the Community of St Luke, 130 Remuera Road, Remuera. Door sales – Adults: $15 Students and Seniors: $10
Hal is an academic professor and popular author, business leader, philanthropist and cyclist. Visiting Professor of New Testament at the Union Theological Seminary, New York. Professor of Early Christianity at the Reconstructionist Rabbinical College, Wyncote, Pennsylvania and retired Co-pastor at Chestnut Hill United Methodist Church, Philadelphia, Pennsylvania.