Newsletter 15-October-2017

Exodus 32:1-14 New International Version (NIV)
The Golden Calf 32 When the people saw that Moses was so long in coming down from the mountain, they gathered around Aaron and said, "Come, make us gods[a] who will go before us. As for this fellow Moses who brought us up out of Egypt, we don't know what has happened to him." 2 Aaron answered them, "Take off the gold earrings that your wives, your sons and your daughters are wearing, and bring them to me." 3 So all the people took off their earrings and brought them to Aaron. 4 He took what they handed him and made it into an idol cast in the shape of a calf, fashioning it with a tool. Then they said, "These are your gods,[b] Israel, who brought you up out of Egypt." 5 When Aaron saw this, he built an altar in front of the calf and announced, "Tomorrow there will be a festival to the Lord." 6 So the next day the people rose early and sacrificed burnt offerings and presented fellowship offerings. Afterward they sat down to eat and drink and got up to indulge in revelry. 7 Then the Lord said to Moses, "Go down, because your people, whom you brought up out of Egypt, have become corrupt. 8 They have been quick to turn away from what I commanded them and have made themselves an idol cast in the shape of a calf. They have bowed down to it and sacrificed to it and have said, 'These are your gods, Israel, who brought you up out of Egypt.' 9 "I have seen these people," the Lord said to Moses, "and they are a stiff-necked people. 10 Now leave me alone so that my anger may burn against them and that I may destroy them. Then I will make you into a great nation." 11 But Moses sought the favour of the Lord his God. "Lord," he said, "why should your anger burn against your people, whom you brought out of Egypt with great power and a mighty hand? 12 Why should the Egyptians say, 'It was with evil intent that he brought them out, to kill them in the mountains and to wipe them off the face of the earth'? Turn from your fierce anger; relent and do not bring disaster on your people. 13 Remember your servants Abraham, Isaac and Israel, to whom you swore by your own self: 'I will make your descendants as numerous as the stars in the sky and I will give your descendants all this land I promised them, and it will be their inheritance forever.'" 14 Then the Lord relented and did not bring on his people the disaster he had threatened.
---
NEXT SUNDAY: 22nd October 2017
Next week's theme:  Our Whole Selves
Focus Scripture:  Exodus 33:12-23
Other Readings: Psalm 99; 1 Thessalonians 1:1-10; Matthew 22:15-22
Prayer Points for: Families, Children and Leaders for Mainly Music Ministry please; The Handscamp family (Nigel, Rebecca, Letitia and Jacinta) with the sudden death of Nigel's mum a few weeks ago and now his dad has passed away. Steve Logan says thank you all (and God) for the strength and grace he found to live through his Leukaemia treatment, (a bone marrow transplant (successful)) and while all that was happening, for being able to cope with his wife's death. Please pray for the Logan family as they mourn Lynette's death.
*** LEPROSY MISSION BOXES due this month. Please hand in to Joan Jones ***
---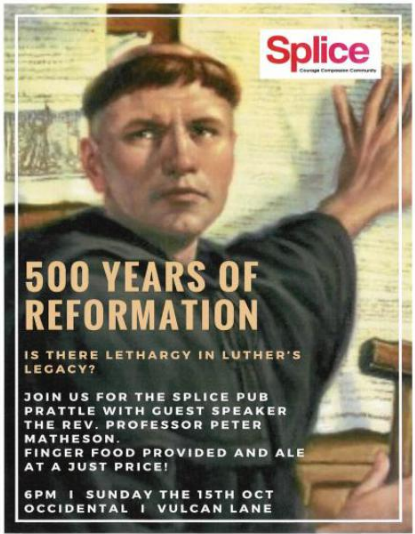 500 YEARS OF REFORMATION
Is there Lethargy in Luther's Legacy?
6pm Sunday 15th October
Occidental, Vulcan Lane
Join the Splice Pub Prattle with Guest speaker The Rev. Professor Peter Matheson.
Finger food provided and ale at a just price.
---
The Five Hundredth Anniversary of the Reformation 1517-2017 The community of St Luke and St Heliers Presbyterian Church invite you to a public marking this anniversary. "How do we speak about God? Authenticity for Martin Luther and for us" by Professor Peter Matheson, St Lukes Church 130 Remuera Road, 17 October at 7.30 pm. 
---
Real Life with John Cowan:- 7.30pm Sunday nights on Newstalk ZB. John Cowan's guest this Sunday night (15 October) will be TV presenter and producer, Jude Dobson. Jude became a familiar television presence in the 1990's presenting a run of lifestyle shows, and then her own 'five nights a week' series. After beginning on quiz show Sale of the Century, she went on to helm almost 1000 episodes of 5.30 with Jude and its follow up. In 2002, she set up production companies Homegrown Television and Raising Children Media to accessible, useful video content for parents. Dobson's 'Family Matters' column has appeared in The NZ Herald; she has also written an advice column in The New Zealand Woman's Weekly and takes on varied contract writing gigs.
---
 One More at the Table: Uniting Congregations of Aotearoa New Zealand (UCANZ) Forum 'One More at the Table' takes place from 26-29 October at the Onehunga Cooperating Parish, Corner of Grey Street and Onehunga Mall. This year's UCANZ Forum goal is to enlarge vision and equip those attending with greater understanding of the diversities encountered in the life of Cooperative Ventures. Full programme at www.ucan.org.nz 
---
Afternoon tea contributions and servers needed-Saturday 28 October St Johns is responsible for preparing and serving afternoon tea at the forum mentioned above. Contributions of slices or biscuits for this event will be appreciated. Please bring them to church on Friday 27 October. Helpers on the day would also be welcome, contact Lorraine or Alison.
---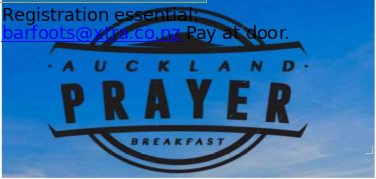 Auckland Prayer Breakfast
Thursday, 26 October at 6.30 am Eden Park Function Centre
This event is for anyone who desires to pray for the different communities that come together in the Auckland area such as business (the professions), politics, the arts and those in need.
---
Thanksgiving Sunday 29 October. In 2017 we are appealing for funds to refurbish and freshen-up the upstairs hall. If you venture up there you will see that this is badly needed. The kitchen upgrade is going to make the rest of the upstairs look even more shabby! This is the environment in which our Mandarin language services are held. So, if you can please give generously.
As always we will be giving 10% of the money raised to a cause outside St Johns. This year the Leadership Team have decided to support CCSM – The Chinese Churches Support Mission. This is close to the hearts of our Mandarin Brethren. Murray Cameron who is often here to speak at services upstairs works for CCSM.
---