Newsletter 22-October-2017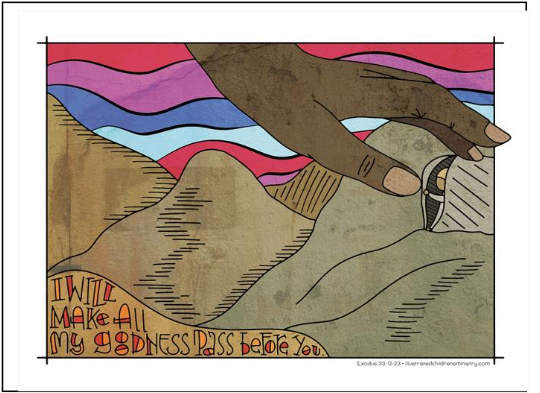 Exodus 33:12-2 New International Version (NIV)
Moses and the Glory of the Lord 12 Moses said to the Lord, "You have been telling me, 'Lead these people,' but you have not let me know whom you will send with me. You have said, 'I know you by name and you have found favour with me.' 13 If you are pleased with me, teach me your ways so I may know you and continue to find favour with you. Remember that this nation is your people." 14 The Lord replied, "My Presence will go with you, and I will give you rest." 15 Then Moses said to him, "If your Presence does not go with us, do not send us up from here. 16 How will anyone know that you are pleased with me and with your people unless you go with us? What else will distinguish me and your people from all the other people on the face of the earth?" 17 And the Lord said to Moses, "I will do the very thing you have asked, because I am pleased with you and I know you by name.".
---
NEXT SUNDAY: 29th October 2017
Next week's theme:  A Problem and a Solution
Focus Scripture:  Isaiah 6:1-8
Other Readings:1 John 1:8-10; John 1:19-21, 29-34
---
Prayer Points for: 
Brenda Ryan for good health; Families, Children and Leaders for Mainly Music Ministry please; George Morrison and family with the sudden death of his daughter, Fiona. The Hanscamp family (Nigel, Rebecca, Letitia and Jacinta) with the sudden death of Nigel's mum a few weeks ago and now his dad is in a hospice, dying of cancer. Steve Logan says thank you all (and God) for the strength and grace he found to live through his leukaemia treatment, (a bone marrow transplant (successful)) and while all that was happening, for being able to cope with his wife's death. Please pray for the Logan family as they mourn Lynette's death..
---
*** LEPROSY MISSION BOXES due this month. Please hand in to Joan Jones ***
---
Real Life with John Cowan:- 
7.30pm Sunday nights on Newstalk ZB. John Cowan's guest this Sunday night (22 October) will be celebrity chef, food writer and publisher, Annabel Langbein..
---
Age Concern
have two local events coming up. You can register for either of these by phoning the Age Concern Office 09 279-4331 Ext 800 or email
This email address is being protected from spambots. You need JavaScript enabled to view it.
Nutrition in a Nutshell – 10 am – noon, Thursday 26 October, East City Wesleyan Church, 219 Burswood Drive, Botany.
Staying Safe – 9.30am-2.30pm, Friday 27 October, St Andrews Presbyterian Church, 11 Vincent Street, Howick.
---
One More at the Table:
Uniting Congregations of Aotearoa New Zealand (UCANZ) Forum 'One More at the Table' takes place from 26-29 October at the Onehunga Cooperating Parish, Corner of Grey Street and Onehunga Mall. This year's UCANZ Forum goal is to enlarge vision and equip those attending with greater understanding of the diversities encountered in the life of Cooperative Ventures. Full programme at
www.ucan.org.nz 
---
Afternoon tea contributions and servers needed-Saturday 28 October
St Johns is responsible for preparing and serving afternoon tea at the forum mentioned above. Contributions of slices or biscuits for this event will be appreciated. Please bring them to church on Friday 27 October. Helpers on the day would also be welcome, contact Lorraine or Alison.
---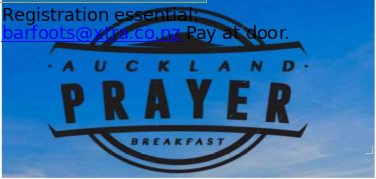 Auckland Prayer Breakfast
Thursday, 26 October at 6.30 am Eden Park Function Centre
This event is for anyone who desires to pray for the different communities that come together in the Auckland area such as business (the professions), politics, the arts and those in need.
---
Thanksgiving Sunday 29 October
. In 2017 we are appealing for funds to refurbish and freshen-up the upstairs hall. If you venture up there you will see that this is badly needed. The kitchen upgrade is going to make the rest of the upstairs look even more shabby! This is the environment in which our Mandarin language services are held. So, if you can please give generously.
In particular we wish to:
Install blinds 
quote to come 
Improve the sound system 
quote to come
Install heat pumps 
 quote to come
Paint
 quote to come
Replace the vinyl flooring 
 
 Hall $11,684.00
 
 Stairwell $5,715.00
As always we will be giving 10% of the money raised to a cause outside St Johns. This year the Leadership Team have decided to support CCSM – The Chinese Churches Support Mission. This is close to the hearts of our Mandarin Brethren. Murray Cameron who is often here to speak at services upstairs works for CCSM.
---
INSPIRE/PREACH – Ecumenical Lay Preachers Meeting – Saturday 25th November 9.30am – Noon.
The Methodist Church Offices, 409 Great South Road, Auckland. This is the beginning of a new venture for Lay Preachers in our area. The Lay Preachers License requires that Lay Preachers are involved in continuing education and the organisers intend to make it a practical and memorable offacions for all Lay Preachers whatever their experience. RSVP 18th November
This email address is being protected from spambots. You need JavaScript enabled to view it.
---