Newsletter 19-November-2017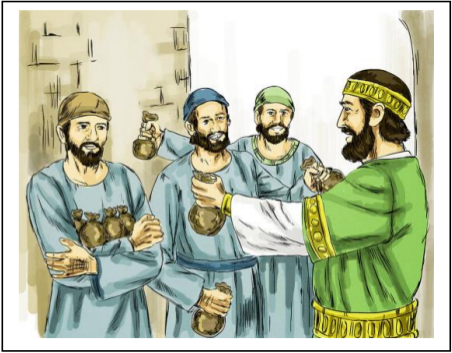 Matthew 25:14-30
 New International Version (NIV)
The Parable of the Bags of Gold
14 "Again, it will be like a man going on a journey, who called his servants and entrusted his wealth to them. 15 To one he gave five bags of gold, to another two bags, and to another one bag,[a] each according to his ability. Then he went on his journey. 16 The man who had received five bags of gold went at once and put his money to work and gained five bags more. 17 So also, the one with two bags of gold gained two more. 18 But the man who had received one bag went off, dug a hole in the ground and hid his master's money. 19 "After a long time the master of those servants returned and settled accounts with them. 20 The man who had received five bags of gold brought the other five. 'Master,' he said, 'you entrusted me with five bags of gold. See, I have gained five more.' 21 "His master replied, 'Well done, good and faithful servant! You have been faithful with a few things; I will put you in charge of many things. Come and share your master's happiness!'
---
NEXT SUNDAY: 26th November 2017
Next week's theme: Christ Is Among Us 
Focus Scripture:  Mathew 25: 31-46
Other Readings:Ezekiel 34:11-16; Psalm 100; Ephesians 1:15-23
---
Prayer Points for: 
George Morrison for strength and peace of mind; Brenda Ryan for good health; Maya Corbett for healing of her knee, Families, Children and Leaders for Mainly Music Ministry please; and Averil Rule on the recent death of her twin brother, Graeme Priestley.
---
Real Life with John Cowan
7.30pm Sunday nights on Newstalk ZB John Cowan's guest this Sunday night (19 Nov) will be former All Black, Grant Fox. Grant was a member of the All Blacks from 1985 to 1993, playing 46 test matches and helping the team win the first ever Rugby World Cup in 1987. In his retirement, Grant is coaching and is a prominent television sports commentator and in 2011 he was appointed as one of the All Blacks selectors.
---
THANKSGIVING ENVELOPES 2017 are still available on the foyer table. If you would prefer to make your thanksgiving offering by direct credit please put 'Thanksgiving' as your reference. This year's thanksgiving offerings will go towards refurbishing and freshening-up the upstairs hall which is badly needed. This is the environment in which our Mandarin language services are held. So if you can please give generously.
In particular we wish to:
Install blinds 
$1,500
Improve the sound system 
$1,000
Install heat pump
$6,000
Paint
 
 
Hall $2,480
 
Gallery $1,780
 
Foyer $1,440
Replace the vinyl flooring 
 
 Hall $11,684.00
 
 Stairwell $5,715.00
As always we will be giving 10% of the money raised to a cause outside St Johns. This year the Leadership Team have decided to support CCSM – The Chinese Churches Support Mission. This is close to the hearts of our Mandarin Brethren. Murray Cameron who is often here to speak at services upstairs works for CCSM.
---
INSPIRE/PREACH – Ecumenical Lay Preachers Meeting – Saturday 25th November 9.30am – Noon. The Methodist Church Offices, 409 Great South Road, Auckland. This is the beginning of a new venture for Lay Preachers in our area. The Lay Preachers License requires that Lay Preachers are involved in continuing education and the organisers intend to make it a practical and memorable occasion for all Lay Preachers whatever their experience. RSVP 18th November This email address is being protected from spambots. You need JavaScript enabled to view it.
---
Decorate the Church for Christmas. We need as many people as possible to come and help put up and decorate Christmas Trees, other room decorations and the light 'strings' around the building. The more people we have the quicker it is and the more gets decorated! Tuesday night, 28 th November from 6-9pm, please come and help :).
---
SAVE THE DATE - Sunday 3 December Family BBQ at St Johns 4.30 pm-6.30 pm If you have a portable Gazebo or a sun umbrella we could use on the day please contact Alan Vickers 09 533 3790 or 021 051 3040 Bring your family and food to share
---
Christmas Carol Singing. CHRISTMAS CAROL SINGING Save the dates to join the two carol singing opportunities we are planning for this Christmas. Sunday 10 th December, afternoon Wednesday 20 th December, evening. Please note the change of dates. More details closer to the time.
---
ROSTERS December 2017 and January 2018 Your assistance is needed for the smooth running of services over the festive season and summer holidays. Please see the sheets in the foyer and place your name on the dates you would be available and willing to serve.