Newsletter 03-December-2017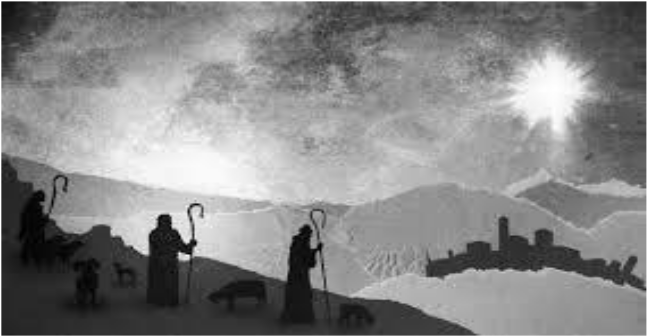 Luke 2:8-20 New International Version (NIV)
Final Exhortations
8 And there were shepherds living out in the fields nearby, keeping watch over their flocks at night. <sup9 An angel of the Lord appeared to them, and the glory of the Lord shone around them, and they were terrified. 10 But the angel said to them, "Do not be afraid. I bring you good news that will cause great joy for all the people. 11 Today in the town of David a Saviour has been born to you; he is the Messiah, the Lord. 12 This will be a sign to you: You will find a baby wrapped in cloths and lying in a manger." 13 Suddenly a great company of the heavenly host appeared with the angel, praising God and saying, 14 "Glory to God in the highest heaven, and on earth peace to those on whom his favour rests." 15 When the angels had left them and gone into heaven, the shepherds said to one another, "Let's go to Bethlehem and see this thing that has happened, which the Lord has told us about." 16 So they hurried off and found Mary and Joseph, and the baby, who was lying in the manger. 17 When they had seen him, they spread the word concerning what had been told them about this child, 18 and all who heard it were amazed at what the shepherds said to them. 19 But Mary treasured up all these things and pondered them in her heart. 20 The shepherds returned, glorifying and praising God for all the things they had heard and seen, which were just as they had been told.
---
NEXT SUNDAY: 10th December 2017
Next week's theme: Joy 
Focus Scripture:Matthew 2:2-12
Other Readings:Luke 2:1-21, Isaiah 55:1-3, 12-13
---
Prayer Points for: George Morrison for strength and peace; Brenda Ryan for good health; Maya Corbett for healing of her knee, Families, Children and Leaders for Mainly Music Ministry please.
---
TODAY - Sunday 3 December Family BBQ at St Johns 4.30 pm-6.30 pm Bring goodwill and food to share
---
Real Life with John Cowan 7.30pm Sunday nights on Newstalk ZB John Cowan's guest this Sunday night (3 Dec) will be Sam Johnson. Sam was the 2012 Young New Zealander of the Year and founder of the Student Volunteer Army. Sam Johnson and Tyler Brummer were inspired to set up WeVisit in 2016. It's a social enterprise set up to combat isolation amongst the elderly. Sam believes that social connection between youth and the elderly can tackle some of the complex issues including mental illness, youth suicide and loneliness.
---
THANKSGIVING 2017 We are grateful for your generous thanksgiving donations to date. These have enabled us to make a start on the refurbishing and freshening-up of the upstairs hall. We have contracted to install the heat pumps and next we aim to install blinds.

Thanksgiving envelopes are still available on the foyer table. If you would prefer to make your thanksgiving offering by direct credit, please put 'Thanksgiving' as your reference.
---
HOWICK SINGERS presents Celebrating Christmas - 8 December at 7.30 pm St Andrews Church, Vincent Street, Howick. Donations at the door. No tickets required. A light supper will be served.
---
CHRISTIAN BROADCASTING AT CHRISTMAS - 30 Hours Airtime on three networks – Newstalk ZB, Radio Sport and RadioLIVE have entrusted their airwaves to Christian Broadcastings' talented team of presenters, to retell the Christmas story in a multitude of creative and compelling ways.
This Christmas Eve from 7 pm on RadioLIVE, Judy Bailey takes listeners on a nostalgic journey to explore the essence of a Kiwiana Christmas. We hear tales of everything from Father Christmas parachuting into the Auckland Domain to New Zealand's very first Christmas service at Oihi Bay in 1814 when Samuel Marsden proclaimed "Te Harinui" – glad tiding of great joy – the Good News.
---
Carol Singing Today
Sunday 10th December
1pm 
Avril Rule's, 7b Waller Ave., Bucklands Beach
2pm 
Highlands Retirement Village lounge, 49 Aberfeldy Avenue.
 If you require transport please meet in the Church carpark at 12.55 pm.
Wednesday 20th December
6.25 pm Dannemora Gardens, 30 Matarangi Road, East Tamaki Heights 
7.15 pm Bruce McLaren Retirement Village lounge, 795 Chapel Road.
If you require transport please meet in the Church car park at 5.55 pm to leave at 6 pm.
Please bring your friends and family – these occasions are fun events.
Supper will be served after singing at Bruce McLaren. Please drive carefully!
If you require any further information please ring Judy 027 48534 or 021 1057 6327