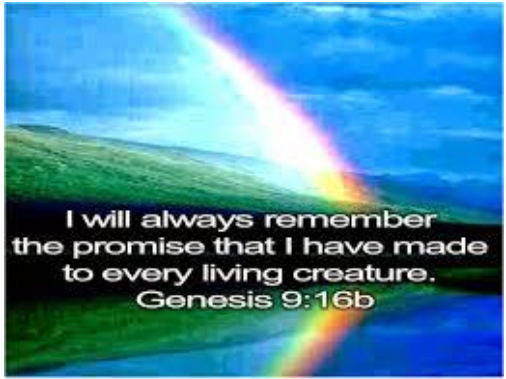 8 Then God said to Noah and to his sons with him: 9 His"I now establish my covenant with you and with your descendants after you 10 and with every living creature that was with you—the birds, the livestock and all the wild animals, all those that came out of the ark with you—every living creature on earth. 11 I establish my covenant with you: Never again will all life be destroyed by the waters of a flood; never again will there be a flood to destroy the earth."
12 And God said, "This is the sign of the covenant I am making between me and you and every living creature with you, a covenant for all generations to come:Peter said to Jesus, "Rabbi, it is good for us to be here. Let us put up three shelters—one for you, one for Moses and one for Elijah." 13 I have set my rainbow in the clouds, and it will be the sign of the covenant between me and the earth. 14 Whenever I bring clouds over the earth and the rainbow appears in the clouds, 15 I will remember my covenant between me and you and all living creatures of every kind. Never again will the waters become a flood to destroy all life. 16Whenever the rainbow appears in the clouds, I will see it and remember the everlasting covenant between God and all living creatures of every kind on the earth."
17 So God said to Noah, "This is the sign of the covenant I have established between me and all life on the earth."
---
NEXT WEEK: Sunday 25th February 2018
Next Weeks Theme: 'The Blessing of Generations'
Focus Scripture:Genesis 17:1-7, 15-16
Other Readings: Psalm 22:23-31; Romans 4:13-25; Mark 8:31-38
---
Prayer Points:- Please pray for: Brenda Ryan for good health; Maya Corbett for healing of her knee, Families, Children and Leaders for Mainly Music Ministry; someone to pick up the ministry of looking after our IT system please.
---
Thank you to Julie Dickey for graciously giving a day of her time this week to clear out the upstairs kitchen cupboards and drawers, sorting and storing items in readiness for next week's renovations to begin. Thank you Julie.
---
English for Kiwi Life
If you know of anyone who would be interested in attending a free 'English as a Second Language' course this term, please encourage them to come and meet the tutor at an enrolment morning at St Johns.
Tuesday 20 February 9.30 am to 10.30 am.
---
Concerned about the End of Life Bill? NZ Christian Network- is advising everyone who is concerned about euthanasia being legalised in New Zealand to send a submission to the Justice Select Committee.
 This matter is time sensitive: Submissions to the Justice Select Committee close on 20 February 2018. For guidelines to make submissions online, by email or post go to the New Zealand Christian Network website, click on the tab NZCN/Noticeboard and 'read more.'
---
Upstairs Kitchen Upgrade Work begins on the upgrade to the upstairs kitchen on Monday 19 February and will continue over the following three weeks into March. For health and safety reasons, please do not access the kitchen area during this period. Parents need to be responsible for ensuring their children do not enter the upstairs kitchen nor play with kitchen items stored in the hall. We apologise for any inconvenience caused during the upgrade and hope we can all work together to ensure safety and the smooth running of day-to-day activities during this period.
---
Offering Envelopes Do you have a surplus of offering envelopes?
These can still be used. Just let Alison know that you will not be requiring any more for the moment.
If you would prefer to change from weekly to monthly giving, please inform Alison by Thursday 1 March.
Thank you